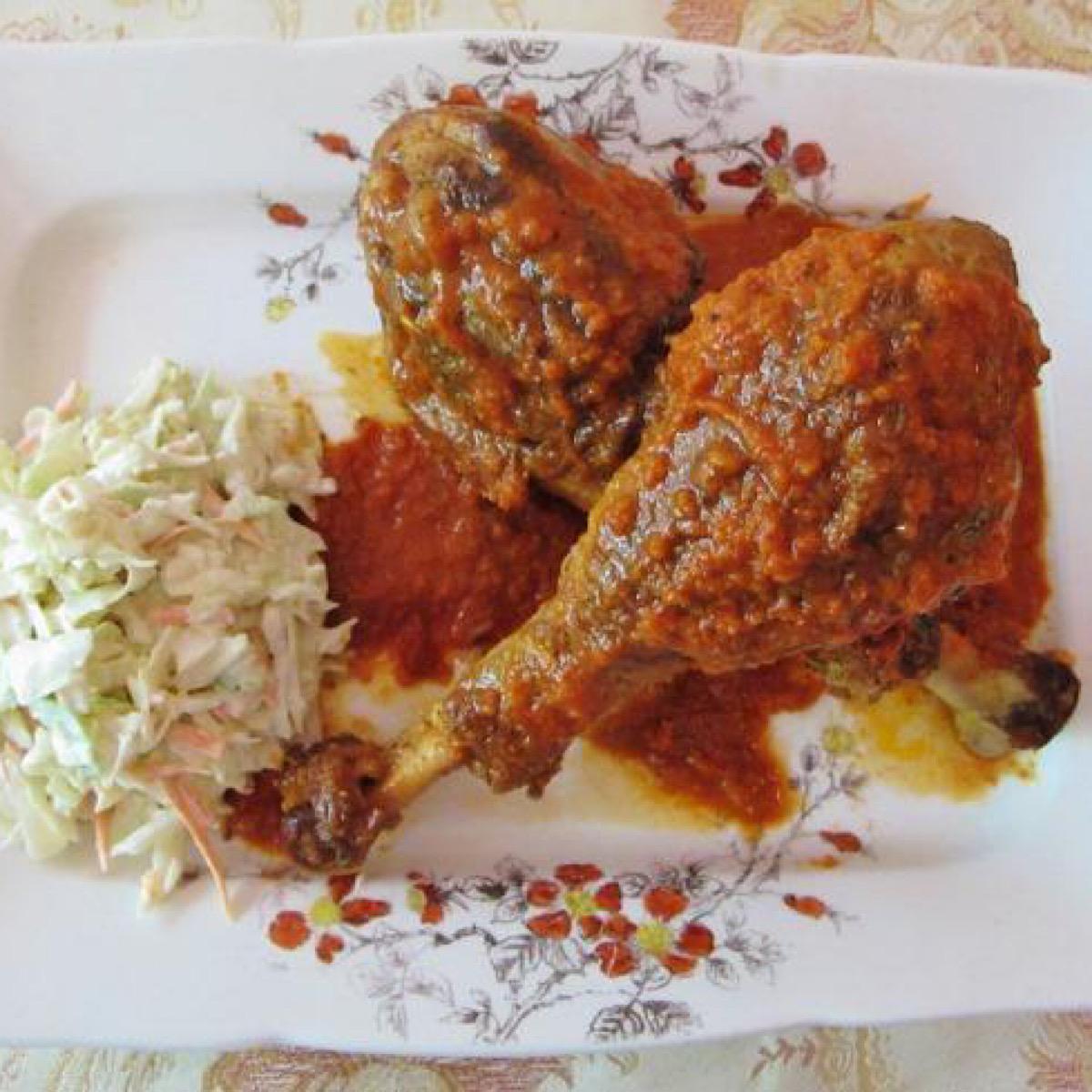 Yes, it's Summer and turning on the oven is not the most desirable thing in the world. While I have made these BBQ Turkey Legs wrapped in foil and roasted, they are easily adapted to a slow cooker without heating up the house. Either way they are wonderful, they are easy, and they are slow-carb compliant.
Store-bought BBQ sauces usually are packed with sugar of some sort, whether it be molasses, honey, brown sugar or other carb-heavy ingredients. This recipe does not give you a thick sauce that sticks to the protein of the legs, but it is a sauce with full flavor and you can slather it on the legs guilt-free.
Turkey legs can sometimes be difficult to find this time of the year. Cub carries the JennieO brand year-round, and they come in packs of three. Buy two packs at least. They are great the next day for lunch. Just make sure you're not wearing your summer whites while enjoying them. They are definitely messy, messy goodness though.
Recipe for BBQ Turkey Legs (Slow Cooker or Foil-Wrapped)
Sauce Ingredients:
14.5 can diced tomatoes
1 onion, coarsly chopped
4 cloves garlic, coarsly chopped
2 Tbsp tomato paste
2 Tbsp dijon mustard
3 Tbsp apple cider vinegar
2-3 Tbsp paprika (smoked if you have it)
1/2 to 1 tsp cayenne pepper (or any hot pepper spice)
2 tsp salt
1 tsp black pepper
1 tsp liquid smoke (optional but highly recommended)
1 Tbsp brown sugar (optional, but not compliant with SCD)
Other Ingredients:
4 large turkey legs
packaged cabbage for coleslaw
Directions:
In a food processor, combine all BBQ sauce ingredients and blend until smooth. Taste. Adjust seasonings to your taste.
Brown the turkey legs in a couple tablespoons of oil until the skin is browned on all sides (as much as possible – hard to get all of the skin – don't fret if some isn't browned)
Place large sheet of foil on baking sheet, lay the turkey legs on top and slather with sauce (some of it will fall to bottom of foil. Fold foil tightly around legs and sauce and bake at 325 degrees for 1 1/2 hours. Alternatively, dump the sauce into a slow cooker, place the turkey legs on top and turn it on slow for 6 hours.
Serve with cole slaw (packaged cabbage mixed with a little mayonnaise and dijon mustard)