This robust blueberry bourbon BBQ sauce can make any of your grilled proteins take on a special Summer essence, from the lowly burger to the Atlantic salmon to the expensive rib eye steak. How about a dipping sauce for wings or a spread on a grilled cheese sandwich? We've included a DIY recipe in this post for the saude but if you're short on blueberries or time you can purchase the Blueberry Bourbon BBQ Sauce from our farm.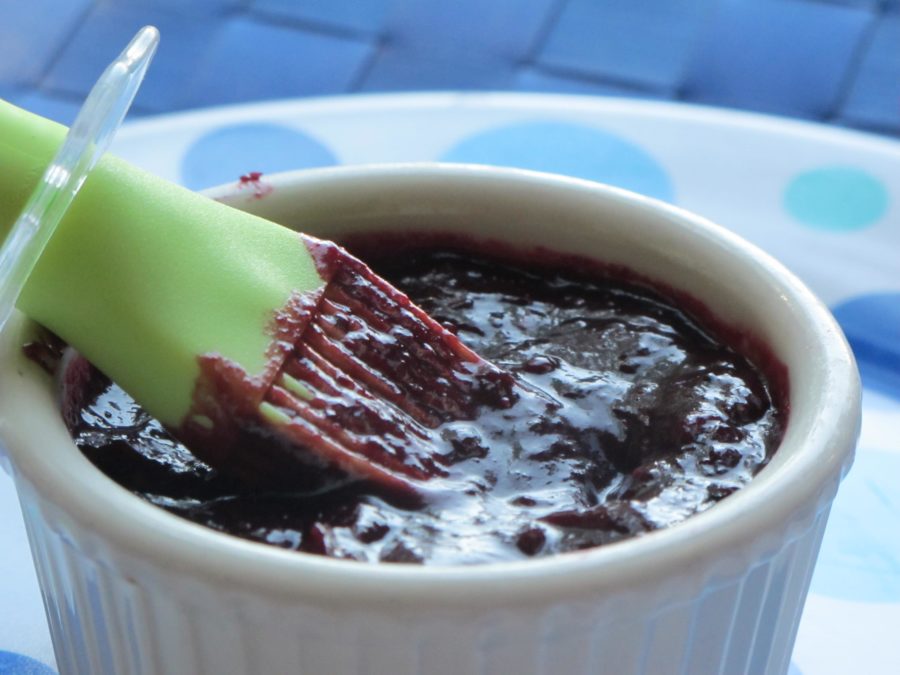 What Does Blueberry Bourbon BBQ Sauce Go With?
The sauce is quite robust and tangy so as a condiment or topping it is best used with stronger flavors, like smoked ribs or grilled pork chops. It is also a classic pairing with salmon however, and adds delightful flavor to gooey chees in a grilled cheese sandwich. Here are a few other favorite pairings:
Grilled lamb chops
Sweet potato fries
Cheese boards
Chicken thighs
Pulled pork quesadilla
Pheasant or game dishes
Trout
Smoked brisket
Can you use Frozen Blueberries?
Absolutely. Blueberries contain minimal water and freeze beautifully. You just want to freeze them properly (no air) so they don't get freezer burn, and the taste will be as fresh as it was in July.
We cannot keep up with our blueberries at the farm and freeze many of them for our preserves. The recipe below was tested with HeathGlen's Blueberry Bourbon BBQ sauce, which was made with frozen blueberries.
Is the Alcohol Cooked Out?
While a good portion of alcohol is evaporated, or cooked out, not all of it is. The amount of alcohol left after cooking depends on three factors: concentration, heat, and time.
This recipe boils the sauce for 5 minutes and simmers the sauce for another 20 minutes, so the heat and the time will evaporate quite a bit of the alcohol. The concentration is a bit high however (the recipe uses 1 cup of bourbon).
The amount of alcohol retained in food can range from 5 to 85 percent, with the lower end more applicable to baked goods that have a low concentration and cook for 1-2 hours. I would guess this sauce retains around 50% of the alcohol as a sauce, but then loses another 25% to the high heat of grilling it with a protein.
At any rate, the amount of sauce you actually "imbibe" is only a couple of tablespoons, so given the cooking time and the high heat, I would guess the alcohol percentage left to be fairly low. It is not non-existant however.
Best Side Dishes to Serve with BBQ
Because the blueberry bourbon BBQ sauce has such a dominant flavor profile, side dishes shouldn't really compete, but rather be a milder complement. I like to add something cool and refreshing (think cucumbers) to pair with the smoky robust sauce. Here are a few of my favorites: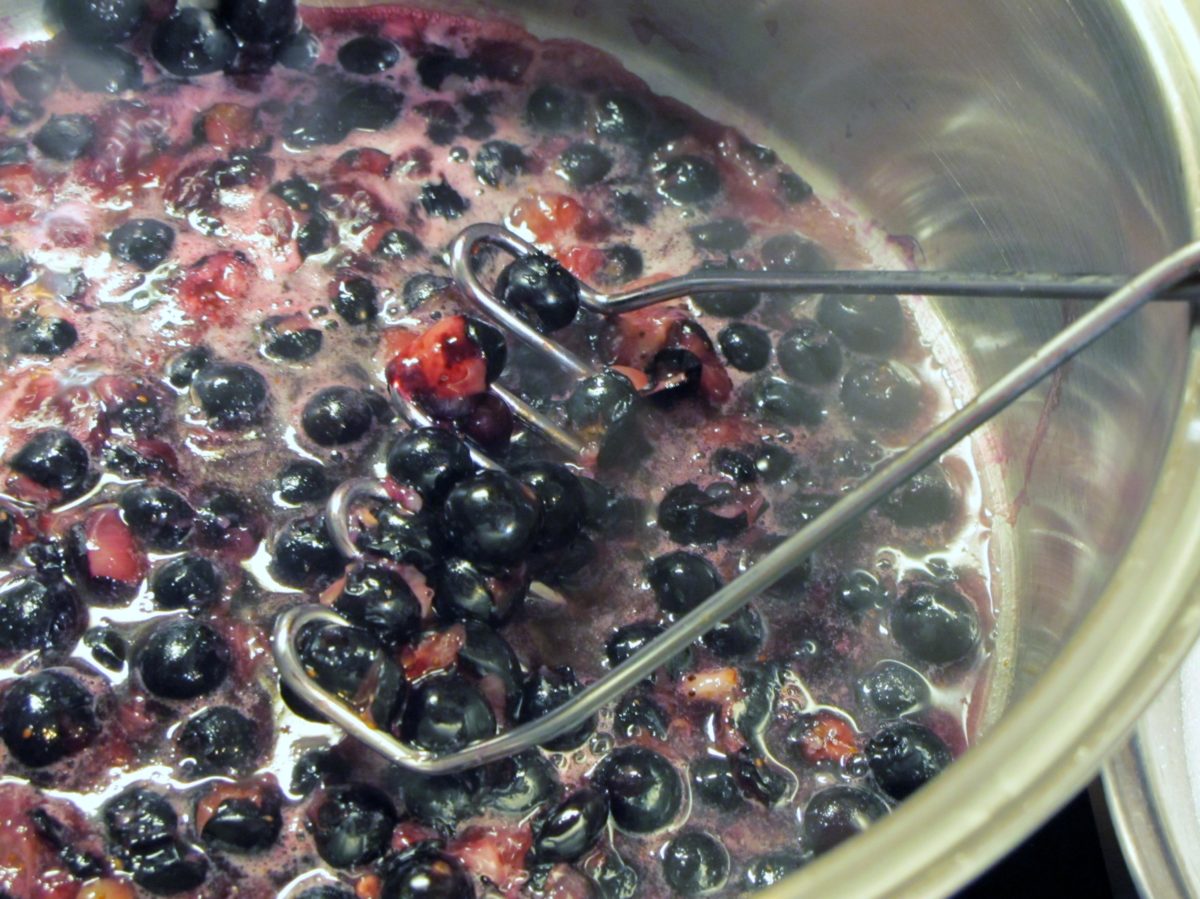 Blueberry Bourbon BBQ Sauce on Pork Chops
This sauce is great on any grilled protein for Summer BBQs. This recipe uses it on pork chops.
Ingredients
1

Teaspoon

hot chile sauce

1

Teaspoon

liquid smoke

1

Cup

catsup

½

Cup

balsamic vinegar

6-8

Tablespoons

brown sugar

6

Tablespoons

dijon mustard

¼

Teaspoon

allspice

1

Medium

onion

chopped

5

Cloves

garlic

minced

1

Tablespoon

oil

⅔

Cup

bourbon

4-5

Cups

blueberries

can be frozen

4

Thick

pork chops
Instructions
Mix together the first seven ingredients in a bowl (the hot sauce through the allspice)

Add the oil to a large pot and heat. When hot add the chopped onions and saute for about 5 minutes. Add the garlic and cook 1 minute.

Add the bourbon, and bring to a boil for about 5 minutes. Add the blueberries and the vinegar mixture, stir, and return to a boil.

Add the salt, lower the heat and simmer for about 20 minutes, or until thickened to your preference

In a skillet, heat butter or oil to smoke point. Sear pork chops on each side (about 2 minutes per side). Lower the heat and cook pork chops for 15-20 minutes until thermometer reads 140 F. Cooking time will depend on thickness of the chops.

When they are almost done, spread some blueberry sauce on top of each chop and cover. Cook for a few minutes until sauce starts to melt a bit.

Serve with a cooling side dish like cole slaw or cucumbers.
Nutrition
Calories:
276
kcal
Carbohydrates:
61
g
Protein:
3
g
Fat:
5
g
Saturated Fat:
1
g
Polyunsaturated Fat:
1
g
Monounsaturated Fat:
3
g
Trans Fat:
1
g
Cholesterol:
1
mg
Sodium:
807
mg
Potassium:
400
mg
Fiber:
5
g
Sugar:
47
g
Vitamin A:
405
IU
Vitamin C:
20
mg
Calcium:
63
mg
Iron:
1
mg
Did you make this recipe?
If you tried this recipe, please give it a 5-star rating! To do this, just click on the stars above. And don't forget to tag me at @dorothy_stainbrook_heathglen, if you share a picture on Instagram! You can also tag me at #heathglen!