Low carb blueberry recipes include a low carb dinner salad with chicken and blueberries, some blueberry rum popsicles for a low carb dessert, and a blueberry protein smoothie for a low carb breakfast. Besides being a healthy superfood, blueberries freeze perfectly and are one of those fruits you can enjoy year-round.
Jump to Recipe
While this blueberry chicken salad by itself was filling enough for me as a low carb summer dinner, my family thinks they need several courses when we sit down to the table. As soon as I put this out I hear, "Is that all we're having?"…"well, it looks good for an appetizer"…."I'm starving!".
So…if you're making this blueberry dish as dinner for a family like mine that thinks they're undernourished, you might want to add another side of sorts. I sautéed some summer squash in butter and mint and they were happy and satisfied in the end. It's a great dish for a low carb summer lunch if you don't like salad for dinner.
These blueberry Popsicles (with or without rum) are great fun to take to a party, or have outside or at the lake. They're ever-so-easy, a good way to use up any leftover jam in the fridge, and they keep you cool and happy.
Ingredients & Directions:
1 cup blueberry jam (low sugar if possible)
2 cups water
2 oz. rum
In a medium saucepan, add about 2 cups of water for every cup of your favorite jam (I used Blueberry Lime Mint), and melt mixture over low heat. If the jam is fairly sweet you will want to add more water, both to make it taste more like an ice pop, but also to help it freeze better as too much sugar will prevent the Popsicles from freezing solid.
Cool and pour into Popsicle molds and freeze for 6 hours or until frozen hard.
For a fun adult Popsicle treat, after the jam mix has melted, add 2 oz. rum or vodka for every 3 cups of jam mix.to the pot before pouring into molds. Just don't add too much or they won't freeze as the alcohol will change the freezing point.
If you don't have Popsicle molds, place 6-10 dixie cups in a shallow square pan, cover tops of cups with aluminum foil, and poke a Popsicle stick or sturdy stir stick through the foil in the center of each dixie cup (the foil will hold the sticks upright).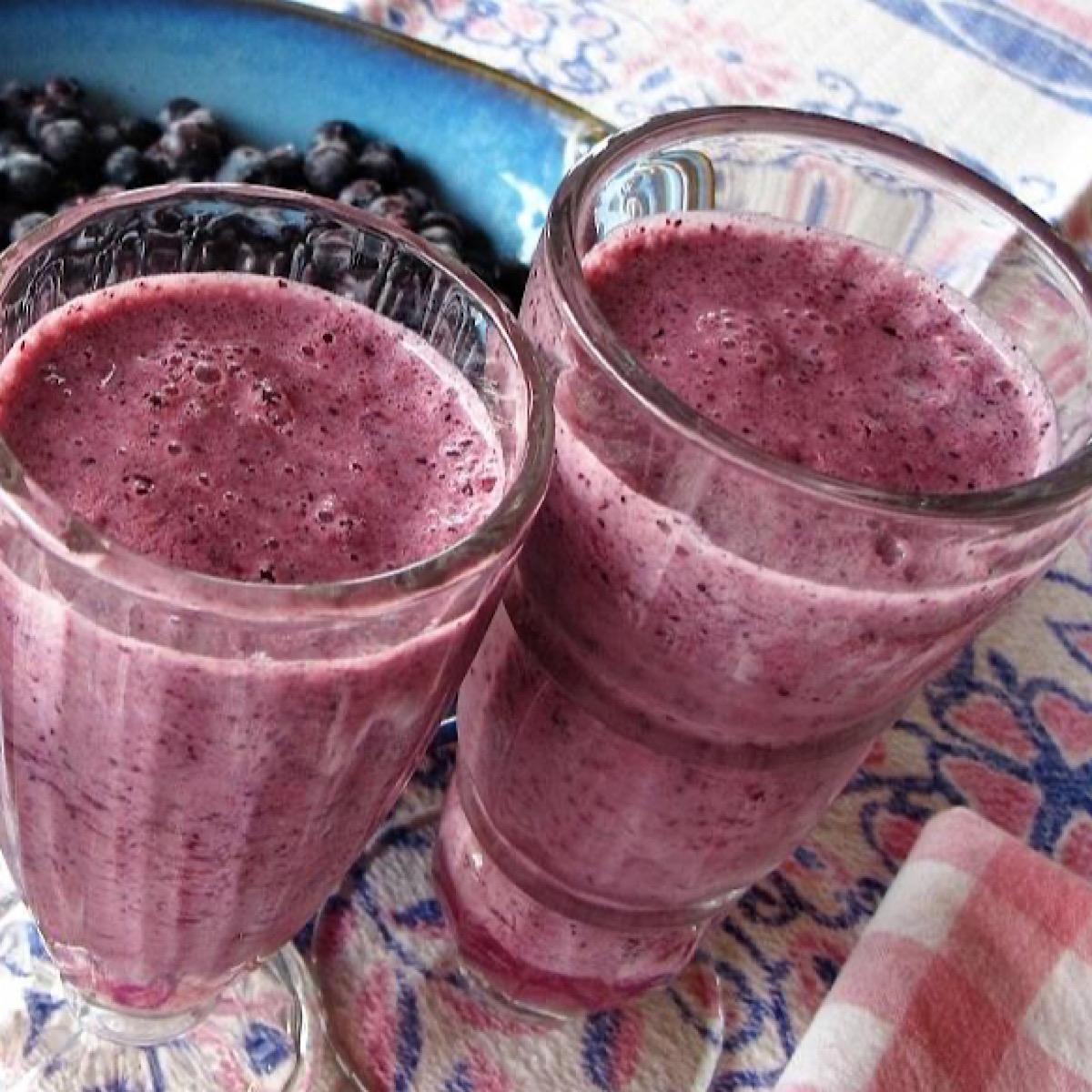 Blueberry smoothies were my kids' favorite lunch during the summer, until they became teenagers and started thinking it was too much like a milkshake and therefore too high in calories. I make them now with protein powder and unsweetened coconut milk for myself every morning for a low carb breakfast. And when the adult "kids" are home these days I'll make one for them also.
Below is a template for the smoothie ingredients. Details and optional ingredients can be found here.
Ingredients:
1/2 cup frozen blueberries
a handful of fresh spinach leaves
1/2 cup unsweetened coconut milk
1 scoop protein powder (I like Premier brand)
1 Tbsp chia seeds.
1/2 cup ice cubes and 1/2 to 1 cup water
1/4 cup mint leaves (optional)
Freezing Blueberries:
Remember, blueberries freeze really nicely. Just pour them (unwashed) on a cookie sheet, freeze till solid, and pour in freezer bags for use throughout the year.
Chicken & Blueberry Salad
An easy chicken salad with fresh blueberries for a low carb lunch or dinner
Ingredients
3

Tbsp

olive oil

½

cup

white wine vinegar

2-3

cloves

garlic

minced

¼

tsp

salt and 1/2 tsp pepper

3

chicken breasts halves

2

carrots

shredded with grater,

2

celery ribs

chopped

½

cup

onion

diced

½

cup

red bell pepper

chopped

4

cups

torn salad greens

1 to 1 ½

cups

fresh blueberries
Instructions
Whisk together first 3 ingredients with salt and pepper and pour into large plastic bag.

Add chicken breasts to bag and massage bag so the marinade covers chicken pieces. Let marinate for about an hour

Remove chicken from marinade and discard marinade. Grill chicken breasts over med-high to high heat for 6-8 minutes on each side, or until done (depends on how thick your chicken breasts are).

If you don't want to grill them, just boil or microwave chicken until break-apart tender.

Combine carrots, celery, onions and pepper with your favorite salad dressing, tossing to coat.

Place chicken over greens. Top with vegetable/dressing mixture, and sprinkle with berries.
Nutrition
Calories:
366
kcal
Carbohydrates:
16
g
Protein:
39
g
Fat:
15
g
Saturated Fat:
2
g
Polyunsaturated Fat:
2
g
Monounsaturated Fat:
9
g
Trans Fat:
1
g
Cholesterol:
108
mg
Sodium:
290
mg
Potassium:
1289
mg
Fiber:
4
g
Sugar:
7
g
Vitamin A:
23266
IU
Vitamin C:
74
mg
Calcium:
116
mg
Iron:
3
mg
Did you make this recipe?
If you tried this recipe, please give it a 5-star rating! To do this, just click on the stars above. And don't forget to tag me at @dorothy_stainbrook_heathglen, if you share a picture on Instagram! You can also tag me at #heathglen!