Easy English Summer Pudding with Blueberry Lavender Syrup
English Summer Pudding is really a misnomer if you're from the States, as it isn't what Americans think of as pudding at all.  To the British, the term pudding seems to cover everything from steamed savory dishes to molded cakes. This pudding is the classic filled with blackberries, raspberries and blueberries and enhanced with a delicious blueberry lavender syrup.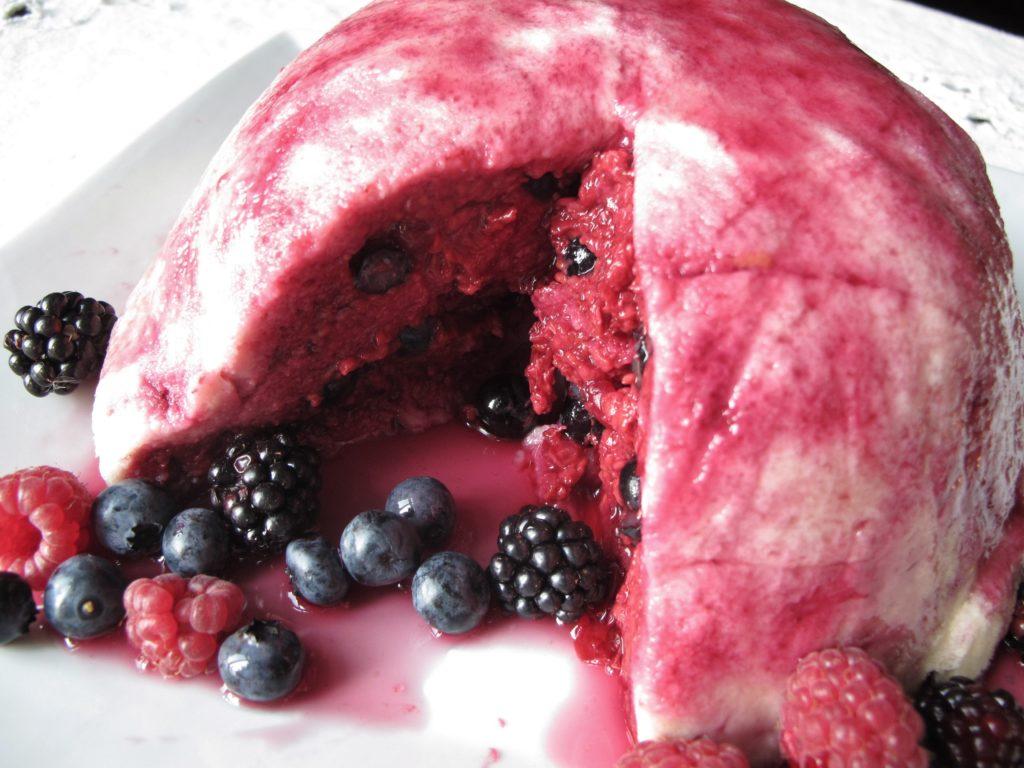 It's also deceptively easy to make, even though it looks like one of those elaborate desserts for special occasions (warning: you do need to let it sit overnight).
I made this many years ago when I was trying out  "themed movie nights" for the kids.  My thought was to rent a classic genre movie once a week and prepare food that might then  be associated with each movie.  The Summer Pudding went with the comedy genre and the movie I rented was Monty Python and the Holy Grail. 
While the summer pudding was great, the movie was just not funny at all to my then-young children. It was one of those "what were you thinking, mom?" kind of deals. British and subtle humor were completely lost on my 10-year old son and 12-year old daughter.
Ah well, the summer pudding was memorable at least, and it's now a standard summer dessert here in Minnesota during berry season.
Which berries are best to use in an English Summer Pudding?
Not all berries ripen at the same time of year, so you'll have to go with your favorites that are fresh at the farmers' markets.
Alternatively, use frozen blueberries, raspberries or blackberries and go with fresh currents. Blueberries and blackberries freeze really well and will keep their shape better than other berries.
Frozen raspberries work well because some of their juice is released and that provides more juice to soak up into the bread.
Print Recipe
English Summer Pudding with Blueberry Lavender Syrup
Ingredients
2 1/2

cups

raspberries

1 1/2

cup

blackberries

1 1/2

cups

blueberries

can substitute currents

1 1/2

Tbsp

Chambord liqueur

3/4

cup

sugar

may need more or less depending on tartness of berries

12

slices

firm white sandwich bread

Brioche is nice, Pepperidge Farm works well

Blueberry Lavender Syrup to pour over top

optional

mixed fresh berries for garnish

optional

whipped cream

optional (alternatively use ice cream)
Instructions
Combine the berries, Chambord, and 1/2 cup of sugar in medium-size saucepan and place over low heat. Cook until sugar has just melted to form a light syrup and the berries are barely warm, about 2 minutes. Remove pan from heat and set aside.

Using a sharp knife, trim the crusts from the bread, keeping slices as large as possible. Cut the bread into diagonal halves.

Line a medium size bowl (about 1 1/2-quart) with plastic wrap, allowing generous overhang on sides. Smooth plastic on the bottom, and around the sides of bowl.

Line the bowl with the bread, puzzle-like, into the bottom and up the sides of the bowl. Make sure the bread slices fit right next to each other snugly, leaving no gaps.

With a slotted spoon, transfer half the berries to the bread-lined bowl, spreading them out evenly. Sprinkle 2 Tbsp sugar over the berries, and then cover fruit with 2 pieces of the bread. Spoon remaining berries over the bread, then sprinkle with remaining 2 Tbsp sugar. Pack the fruits so they are level with top of bread lining and cover berries with remaining triangles of bread, leaving no gaps. Reserve any remaining juice from the fruit and set aside.

When the top layer of fruit is covered with bread, pull the overhanging plastic wrap over the top and place a plate over the top. Add 2 heavy cans or a 2-pound weight to the plate and let sit at least 8 hours, or overnight, refrigerated. The idea is to place a total of 2-4 lbs weight on the pudding to help it turn into a mold.

To serve, remove the weight and unfold the plastic wrap. Place a plate upside down over the pudding and invert the pan onto the plate. Gently lift off the bowl, then peel off the plastic wrap. Garnish with Blueberry Lavender Syrup, fresh berries and mint if desired.

To serve, use a sharp knife to cut the pudding into slices. Serve with whipped cream or vanilla yogurt or ice cream.
Nutrition
Calories:
219
kcal
|
Carbohydrates:
48
g
|
Protein:
4
g
|
Fat:
2
g
|
Saturated Fat:
1
g
|
Fiber:
6
g
|
Sugar:
26
g
|
Calcium:
116
mg
|
Iron:
2
mg
Long directions, I know, but it is really not a difficult, time-consuming recipe. Unfortunately, I did not take photos as I went, so I can't show you the layering of the bread. Next time I'll remember to do this.
Advice: choose your comedies that you share with children wisely. Not everyone thinks Monty Python humor is funny.